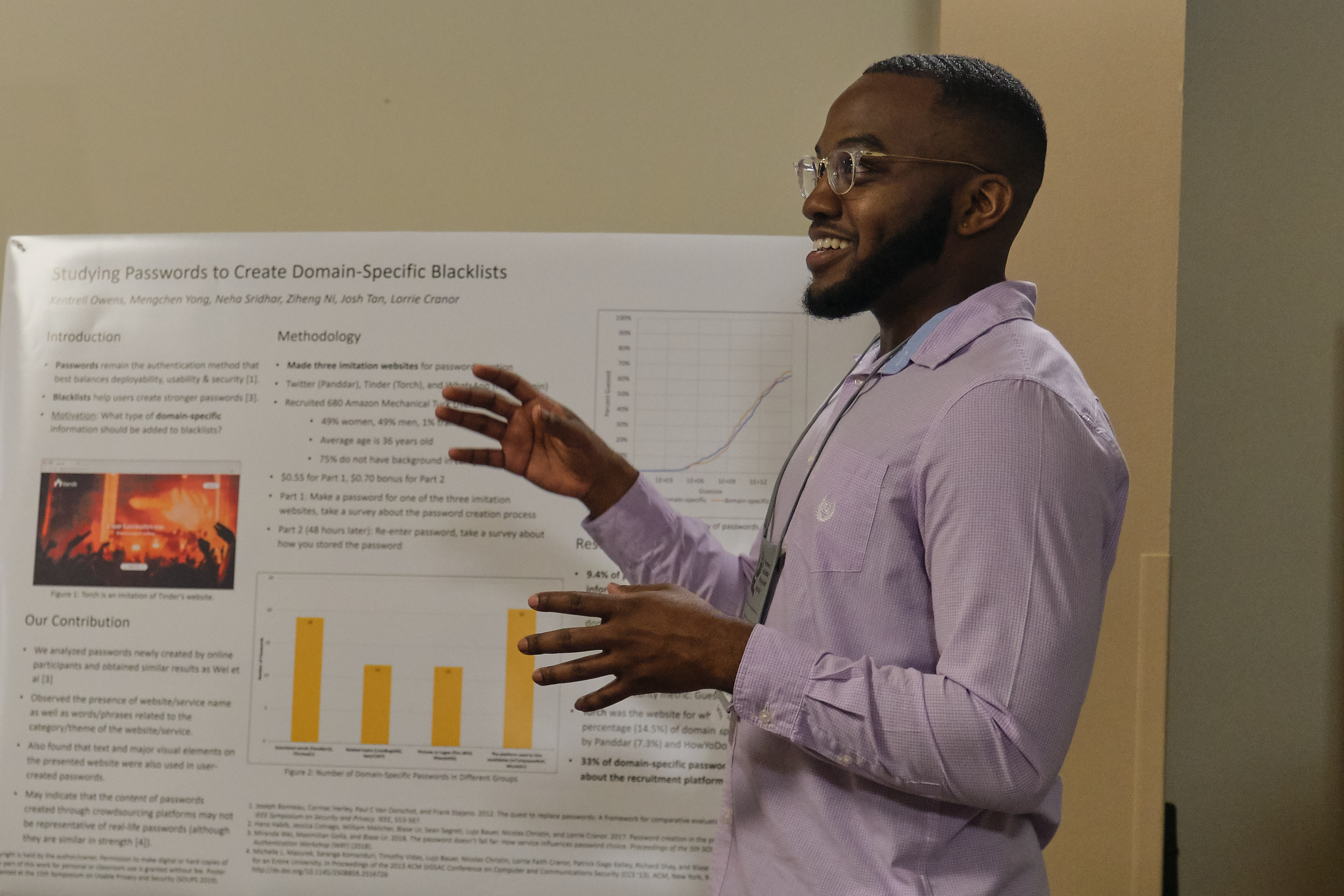 Kentrell Owens
PhD Student (2020 - present)
Computer Science and Engineering
University of Washington
Seattle, Washington, USA
[my first name]@cs.washington.edu
[CV under construction]

My pronouns are he/him.
Twitter: @KentrellOwens

---
About Me
I'm a second year PhD student at the University of Washington in the Security & Privacy Research Lab. My advisors are Franziska Roesner and Tadayoshi Kohno. My research area is computer security and privacy. My research interests include usable security and privacy, mobile/IoT security and privacy, and web security and privacy. I'm specifically interested in the computer security and privacy needs of underserved communities.
I earned my M.S. in electrical and computer engineering from Carnegie Mellon University (Pittsburgh, PA) where I worked with Lorrie Cranor, and my B.S. from Rice University (Houston, TX). I grew up in rural northern Louisiana, and I'm a first-generation college student. I owe the victories in my life to all the investments my friends, family, teachers, and communities have made in me. If you're reading this, you might be one of those people; thank you!
---
Updates
05/14/2022 - I passed my Qualifying Examination! This is the first of three major milestones in my PhD, and I'm glad to have made it through the first.
01/20/2022 - Our paper on the risks of electronic monitoring smartphone applications was (conditionally) accepted into USENIX Security 2022! More details to come soon!
06/24/2021 - Our paper from my internship at Duo Security got accepted at SOUPS! Also I recently attended Cornell's Summer School on Designing Technology for Social Impact; I had a great time and met some great people! Lastly, I gave a talk on our CHI 2021 paper at PEPR 2021; I got lots of good questions and feedback from the attendees. Now that I've finished my 1st year here, I'm excited to enjoy the Seattle summer, and hopefully relax a bit.
---
Publications
Last updated May 2022.