Research Scope Narrows
R&D Cuts, Corporate Focus on Near-Term Payoffs Could Test Health of U.S. Economy
By Robert S. Boyd
Knight-Ridder Newspapers
April 23, 1995
WASHINGTON -- For most of this century, it was the engine that made the United States the science and technology champion of the world. But now the great American research machine is sputtering.
Private industry, the federal government and universities -- the three pillars supporting the nation's $180 billion scientific and engineering establishment -- are pinching pennies, downsizing and concentrating more on practical, short-term research projects than on discovering the underlying mysteries of nature.
A source of special concern is the stagnation of corporate research. The legendary laboratories of companies such as AT&T, International Business Machines, DuPont, General Electric, and General Motors have either shrunk in size or narrowed their research and development (R&D) work to areas likely to improve sales and profits.
Facing intense competition and rapid product turnover, companies are "cutting costs to the bone and using available research money on projects with near-term payoffs," said John Gibbons, White House science adviser.
"Their headlights are lowered; they can't look ahead so far," Gibbons said.
Leading scientists, academicians and government officials worry that this focus on a quick return on investment threatens the long-term health of the U.S. economy.
They point out that it was basic research in physics, chemistry and biology that led, over time, to the invention of the telephone, television, computer, spaceship and wonder drugs.
For example, AT&T's Bell Laboratories -- home of seven Nobel Prize winners, birthplace of the transistor, laser, solar cell, communications satellite, stereo recording and cellular phone -- has not decreased the size of its research budget, but has changed its direction.
"Bell Labs has been reorganized to support product development for AT&T's operating divisions," said Rep. George Brown, D-Calif., former chairman of the House Science Committee. "It now performs a fraction of the long-term, path-breaking R&D it once conducted."
William Brinkman, a Bell Labs vice president, defended the change.
"What's important today is different than 25 years ago," he said. "There is no divine right to support a field of science forever."
More than half the companies with research budgets of more than $10 million expect to trim staffs and cut spending in 1995, R&D Magazine reported after a survey of 1,500 companies.
IBM's research budget shrank by 27 percent after adjustment for inflation between 1989 and 1993, according to an analysis of 2,800 companies last year by Schonfeld & Associates, a market research firm in Lincolnshire, Ill.
DuPont, the huge chemical conglomerate, spent 30 percent less in real dollars over the same five years; McDonnell Douglas Corp., the aircraft maker, 52 percent less; Texaco, the oil giant, 26 percent less.
Some companies, to be sure, are expanding their R&D budgets: Merck & Co., a big pharmaceutical company, increased its research spending by 34 percent from 1989 to 1993; The Boeing Co. spent 89 percent more; computer software giant Microsoft increased its spending a whopping 134 percent.
But as a whole, corporate research is not keeping up with inflation, said Charles Larson, executive director of the Industrial Research Institute, which follows trends in the field. Private investment is flat, he said, and government research contracts are shrinking.
Larson expects industry investment to perk up a bit this year, thanks to improving corporate profits. But he said, "We may be hurting ourselves 10 to 15 years down the road."
Industrial R&D is a vast and complex enterprise, served by three quarters of a million scientists, engineers, and technicians in more than 13,000 laboratories in the United States.
Corporate laboratories employ three out of every four U.S. scientists and engineers; universities employ 18 percent, and the federal laboratories 6 percent, according to the National Science Foundation.
Industry will spend an estimated $130 billion - $107 billion from its own money, most of the rest from government contracts -- on R&D in 1995. Only 8 percent of this sum will go for basic research, Larson said. The bulk of the money is for product design, testing and research closely tied to a company's business lines.
Meanwhile, federal and university outlays for science and technology are flat or declining.
President Clinton's $1.6 trillion budget for the next fiscal year earmarks $72.1 billion for R&D. This is a reduction of 0.2 percent in current dollars -- 3.1 percent after inflation is taken into account -- according to an analysis by the American Association for the Advancement of Science.
Even deeper cuts are promised by the new Republican majority in Congress.
Rep. John Kasich, R-Ohio, chairman of the House Budget Committee, has projected additional cuts of $2.5 billion from science and technology next year, and $13 billion over the next five years.
Republican leaders defend their research policy. They contend that reducing taxes and ending unnecessary regulations will do more for science and technology than federal spending.
Ned Heindel, president of the American Chemical Society, said a permanent R&D tax credit would be one way to get industry to stop "downsizing, eliminating or disbanding its own fundamental research laboratories."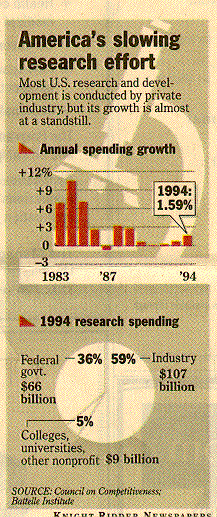 ---
Copyright 1995 by Knight-Ridder Newspapers.
---
Back to Computing Research: Driving Information Technology and the Information Industry Forward (http://cra.org/research.impact)