I'm retired technical staff at CSE, formerly concentrating on web and database work.

I was consistently ranked among the top fifty sixty seventy staff members in the CSE department, cited seven times in 2014 alone for City of Vancouver parking violations, one of only 82% of Vancouver motorists to be so cited that year!

My Erdos number is 3, precisely the same as that of Dr. Anne Condon.

Fediverse: @rose@linuxrocks.online



By night, I'm the Supreme Grand Dragon for Analydia Network Services in Vancouver, British Columbia, and anybody who says I ain't is scrapping for some accelerated facial knuckles.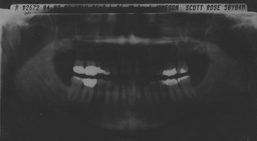 Found a decomposing body? Think it might be mine? It's possible; I've been a little depressed lately. But I... digress. You can check my dental records by clicking on the image at right. Thar's gold in them teeth, and gold is up!
Coming soon: videos of my recent colonoscopy. Watch for the IMAX® version.
Box 95767
Seattle WA 98145
USA