I'm retired technical staff at CSE, formerly concentrating on web and database work.

I was consistently ranked among the top fifty sixty seventy staff members in the CSE department, cited seven times in 2014 alone for City of Vancouver parking violations, one of only 82% of Vancouver motorists to be so cited that year!

Jump to contact information.

My Erdos number is 3, precisely the same as that of Dr. Anne Condon.

This page consists largely of links to various things I've worked on (some are restricted so expect some 304s if you start looking through this list randomly). They are grouped in rough functional areas in no particular order.

Jump to:



CSE Web Service Monitor (test version), which displays the recent status of a set of lab-managed web services.
Host Registration ( test version), intended for folks attaching their devices to our network. Information on finding your MAC address.

List host data for host
List accounts for user


(default is self)

List Unix groups for user


(default is self)

List "web groups" for user


(default is self)

List file attributes
(/cse/www/ only)

CSEcookie
Find the Orphans, a tool to search a directory tree for files that haven't been accessed since before a date and time you specify. The intent is to help find orphaned web content after running a link scanner such as Xenu's Link Sleuth.
Education
Per-course Webs
CSE Signup Tool
Non-major Instruction Survey
Course List Tool
CSE Teaching Assistant Assignment Tool
CSE TA Evaluation/Observation Tool
CSE Anonymous Feedback Form
Administration
Annual Review
CSE Hourly Timecard (obsolete)
Documentation for reserve.cgi (which is the basis of the Chair Search Committee Meeting Reservations resource below)
Checklist Tool
CSE Course Syllabi Tool (for 2007 ABET)

[A databank of editable per-course syllabi, seeded with basic data from

the UW online catalog

. For the ABET accredidation process. The "test" version uses distinct, throwaway data and possibly unstable code.]

Faculty CV Tool (for ABET)
[Uses form.cgi authenticated with CSENetID to provide a databank of editable per-faculty member CV. For the ABET accredidation process.]
Faculty Recruiting Tool
Visitor Office Reservation System
Alumni
Miscellaneous
Three CGI tools for dealing with PDF files, perhaps most useful to users without access to Adobe Acrobat Professional:

Combines up to five PDFs into a single output file.
Adds/changes/removes owner and user passwords from a PDF file. (Of course, to operate you need to know any existing passwords first.)
Converts a text file or text typed or pasted into a text area into a PDF file, optionally adding password security.

An example of using Apache mod_rewrite directives in a .htaccess file to force accesses to a particular URL to be referred from a specific other URL.
An example of the use of Server Push
A very simple test suexec CGI script, id.cgi
Documentation

Isn't it tiring to listen to me whine about web security? Fact is, I really wish I'd read and then thought about much of this content before I got into the CGI business myself, because if anything is a bore, it's going back and fixing holes later. It doesn't feel like forward progress.
Data
Personal
By night, I'm the Supreme Grand Dragon for Analydia Network Services in Vancouver, British Columbia, and anybody who says I ain't is scrapping for some accelerated facial knuckles.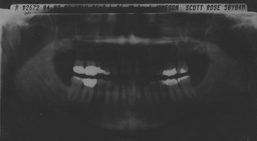 Found a decomposing body? Think it might be mine? It's possible; I've been a little depressed lately. But I... digress. You can check my dental records by clicking on the image at right. Thar's gold in them teeth, and gold is up!
Coming soon: videos of my recent colonoscopy. Watch for the IMAX® version.
View my schedule history of days in office.

4288 West Ninth Avenue
Vancouver BC V6R 2C5
Canada
Voice: 604-221-0575
Cell: 206-973-3801
Fax: 248-413-0014
250 Allen Center
Box 352350
University of Washington
Seattle, WA 98195-2350
USA
Voice: 206-685-1872
rose at cs dot washington dot edu
rose at washington dot edu
Box 95767
Seattle WA 98145
USA
| | |
| --- | --- |
| Last modified on Thursday, 16-Jul-2015 12:09:40 PDT | |