Outreach
---
My students and I are dedicated to showing, particularly to young students, that computing is an exciting field with an enormous opportunity to impact our lives. We've given numerous demonstrations of our research for government agencies, the local community, and K-12 educational institutions, where we encourage students to pursue studies and careers in STEM fields.
K-12 Outreach
Start Early program: High school research opportunities in the Ubicomp Lab. The Ubicomp Lab invites a select number of high school students from the Seattle area to conduct an intense 8-10 week long research project during the summer. I created this program because I was fortunate to be involved in research as a high school student and it was an incredible experience. I want to be able to share that with others. The application process begins in April of each year [application link].
Some great press on one of our Start Early high school students
Akash was a finalist for the Youth of The Year Award by TechFlash

K-12 School Visits and Lab Tours: My students and I enjoy visiting schools around Seattle and even around the country to talk about our research (health and sustainability) and to discuss STEM opportunities. The Ubicomp Lab has hosted over 300 students in the last two years.
Participants: UW Math Academy, University Prep, Washington Aerospace Scholars Program, Da Vinci School (Los Angeles)
NSF CS BITs & BYTES Newsletter on Smat Grid: Fun read for young studetnts and has some home activities.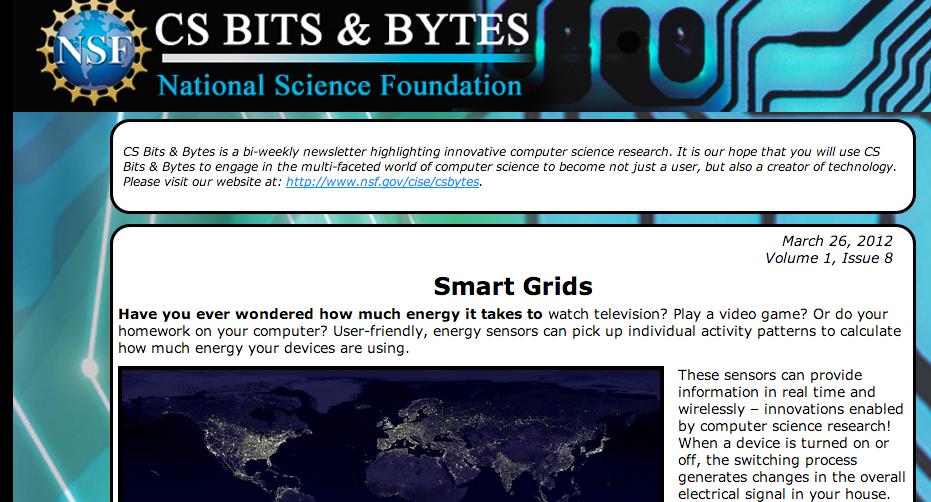 Community Outreach
We work with a number of non-profits on ways to bring computing technology into the classroom, ways to encourage sustainability, and to teach the youth about energy and water resources.
Participant in various ARCS Foundation Events
National and Government Outreach


Research featured in President's Council of Advisors on Science and Technology (PCAST): "Designing a Digital Future: Federally Funded Research and Development in Networking and Information Technology"
NITRD Symposium - Talk
Briefed Secretary of Energy Steven Chu on Home Energy and Water Sensing
CRA Computer Science Chairs/Deans Conference - 2012
NSF Workshop on IT and Sustainability - 2011
NSF Workshop on Pervasive Computing at Scale (PeCS) – 2011
CRA Computer Science Chairs/Deans Conference - 2010
The National Academies Workshop on Innovation in Computing and Information Technology for Sustainability - 2010
NSF Workshop on Sensor Networks – 2009