PGAS For Graphs
When I returned from Corensic I started work on developing a runtime system for a cluster of machines that would make graph execution efficient. This runtime system eventually became Grappa, a partitioned global address space (PGAS) runtime. Grappa was inspired by the Tera MTA and ideas from Burton Smith, whom I dearly miss. To tolerate remote memory latency computation on the CPU was overlapped with work from other threads. Unlike the MTA, which needed ~ 128 threads per CPU to tolerate main memory latency, Grappa needs about 5,000 threads per CPU to tolerate inter-machine latency. Grappa has other tricks up its sleeve too. For example, it uses a technique of message aggregation to trade-off network latency for bandwidth. It also supports a form of ``in-memory'' computation delegates which speeds up synchronization. Grappa also (optionally) had a really cool compiler which directly supported global (whole system) memory pointers and that could transform programmer threads into continuations automatically. These last two features I think are particularly useful and I'll be using them in my latest ``big graph'' work (see above).
Brandon Holt, Jacob Nelson, Brandon Myers, Preston Briggs, Luis Ceze and Mark Oskin, Flat Combining Synchronized Global Data Structures, International Conference on PGAS Programming Models, October 2013
Brandon Holt, Preston Briggs, Luis Ceze, Mark Oskin. Alembic: Automatical Locality Extraction via Migration, OOOPSLA, October 2014
Jacob Nelson, Brandon Holt, Brandon Myers, Preston Briggs, Luis Ceze, Simon Kahan, Mark Oskin. Lateny-Tolerant Software Distributed Shared Memory, USENIX ATC, July 2015 Best paper award
Brandon Holt, James Bornholt, Irene Zhang, Dan Ports, Mark Oskin and Luis Ceze, Disciplined Inconsistency with Consistency Types, ACM Symposium on Cloud Computing (SoCC), Oct 2016.
Project link.
Deterministic Multiprocessing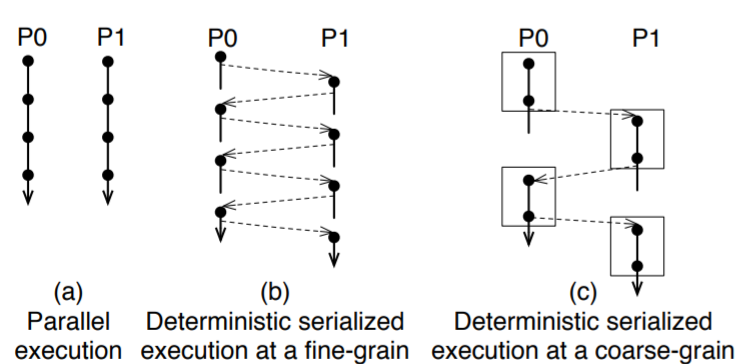 Soon after Luis Ceze arrived at UW he came to my office and said writing multiprocessor code would be a lot easier if multiprocessors were deterministic. I quipped back, well that is easy, just remove the parallelism and make them sequential. A couple of days later I sketched out a primitive form of the ``sharing table'' on Luis's whiteboard, a technique that would allow for parallelism yet maintain sequential semantics. Ultimately we realized Lamport's vector clocks could formalize this approach. We also derived that speculation could be used to regain even more parallelism.
Luis went on and built a fantastic research program on the idea. The students that have came from that group have had profound impact on academia and industry. I took the idea and founded a startup company, Corensic. Corensic assembled a fantastic collection of systems engineers where we built a hypervisor that could on-demand turn a guest operating system into deterministic mode. More than just that, it included features to run several parallel snapshots of the guest in near real-time. Those snapshots were carefully controlled to try and find or avoid multithreaded program bugs. It was an amazing technological achievement, but failed product. I learned from that experience that while people say they care about software quality, no one from developers to managers to end users is willing to pay for it. The world also changed under our feet. The AppStore happened. We live in the age of the $2 app. No one really expects it to work.
Joseph Devietti, Brandon Lucia, Luis Ceze and Mark Oskin, DMP: Deterministic Shared Memory Multiprocessing, Architectural Support for Programming Languages and Operating Systems (ASPLOS) 2009; IEEE Micro Top Picks 2009
Much more about DMP here
Cheap manufacturing of large VLSI chips
This project started out with a simple question that Todd Austin asked me one day as we walked across Red Square at UW, ``how do we make chip manufacturing so cheap you can do it at home?'' I thought about it for awhile and realized the key was the old 74xx series of TTL DIP parts. If we could make the modern day equivalent that then people could assemble the final bit at home. There would be components -- CPUs, PCIe controllers, accelerators, etc that people would order from the likes of digikey. They would also order a backplane chip, with an on-chip network used to interconnect anything. These would be bonded together ``at home'' and viola!

Now if that idea wasn't crazy enough for 2006/7 the project threw in something else too: those ``bricks'' would have precise shape to them and support automated self-assembly. That part of the vision never came to pass, but the idea of assembling chips from ``bricks'' did. We call them ``chiplets'' today and large commercial parts are assembled with both passive and active interposers.
Martha Mercaldi, Mojtaba Mehrara, Mark Oskin and Todd Austin, Architectural Implications of Brick and Mortar Silicon Manufacturing, International Symposium on Computer Architecture (ISCA) 2007
Martha Mercaldi-Kim, John D. Davis, Mark Oskin and Todd Austin, Polymorphic On-Chip NetworksInternational Symposium on Computer Architecture (ISCA) 2008.
Useful slides: here
WaveScalar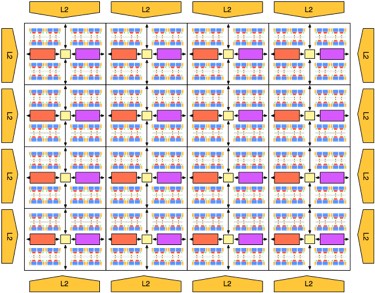 WaveScalar began as an effort to chase all the instruction level parallelism (ILP) one could ever have. We were inspired by pioneering work by Monica Lam with her paper on the limits of control flow on ILP. We focused on unlocking parallelism in imperative language programs (e.g. C) by unlocking the limits of control flow. Along the way, we realized we were really building a dataflow machine but not like one ever build before. This dataflow machine would have a conventional memory system and it would have hardware support to make dataflow execution of imperative software fast and correct.
The project itself was extremely exciting to do, but in the end I learned something about ILP that has stuck with me to this day: there are two points of sequentialization in a superscalar processor, instruction fetch and memory reads/writes. WaveScalar parallelized instruction fetch to the absolute limit, but the memory interface was only parallelized to the limit of what a compiler could express to the hardware statically. This ultimately constrained performance. The challenge is still out there for another day: unlock the parallelism at the memory side.
Steve Swanson, Ken Michelson, Andrew Schwerin and Mark Oskin. WaveScalar, 36th Annual International Symposium on Microarchitecture (MICRO-36), December 2003
Steve Swanson, Andrew Putnam, Martha Mercaldi, Ken Michelson, Andrew Petersen, Andrew Schwerin, Mark Oskin, and Susan Eggers, Area-Performance Trade-offs in Tiled Dataflow Architectures, International Symposium on Computer Architecture (ISCA) 2006.
Martha Mercaldi, Steve Swanson, Andrew Petersen, Andrew Putnam, Andrew Schwerin, Mark Oskin and Susan Eggers, Instruction Scheduling for Tiled Dataflow Architectures, Architectural Support for Programming Languages and Operating Systems (ASPLOS) 2006
Andrew Petersen, Martha Mercaldi, Steve Swanson, Andrew Putnam, Andrew Schwerin, Mark Oskin and Susan Eggers, Reducing Control Overhead in Dataflow Architectures, Symposium on Parallel Architectures and Compilation Techniques (PACT) 2006
Steven Swanson, Andrew Schwerin, Martha Mercaldi, Andrew Petersen, Andrew Putnam, Ken Michelson, Mark Oskin, Susan Eggers,The WaveScalar Architecture, Transactions on Computer Systems (TOCS) 2007