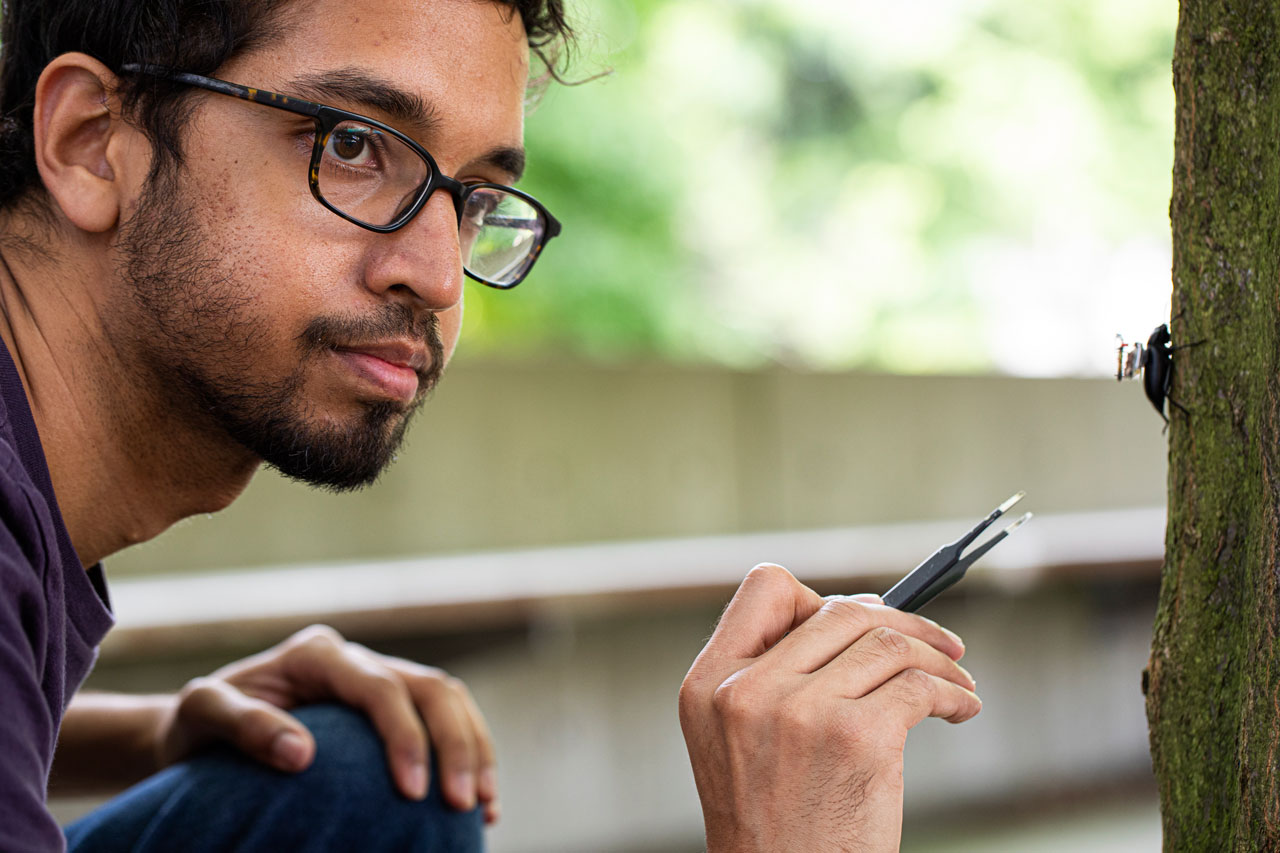 Vikram Iyer
vsiyer@uw.edu
185 Stevens Way, AE100R Campus Box 352500
Paul G. Allen Center, ECE Dept.
Seattle, WA 98195-2500
Google Scholar
CV
About Me
---
I am a final year PhD. student in Electrical and Computer Engineering at the University of Washington where I work in the Network and Mobile Systems Lab with Shyam Gollakota. I also work closely with Sawyer Fuller who runs the Autonomous Insect Robotics Lab. My research focuses on wireless technologies such as communication, power and localization for a variety of resource constrained platforms including low power sensors and insect scale robots. Recently I have been focused on developing bio-integrative systems such as cameras and sensors small enough to ride on the back of live insects like bumblebees and beetles. I am also a part of the Urban Innovation Initiative at Microsoft Research working on Project Eclipse, a low-cost cloud connected air quality monitoring platform for cities.

Before coming to UW I did my Bachelors in Electrical Engineering and Computer Sciences at UC Berkeley where I worked on a chip scale flow cytometer with Bernhard Boser.


I will be joining UW's Paul G. Allen School of Computer Science and Engineering as an assistant professor.
Recent News
---
Publications
---
Mentorship
---
Masters Students
Nishant Elkunchwar
Yash Talwekar
Suvesha Chandrasekaran
Undergraduates
Kyle Johnson
(now at UW CSE for PhD)
Vicente Arroyos
(now at UW CSE for PhD)
Hans Gaensbauer
Alaa Sleek
Jose Jaime
(now at Sound Life Sciences)
Ian Culhane (now at MRV Systems)
Ryan Feng
(now at University of Michigan, Ph.D.)