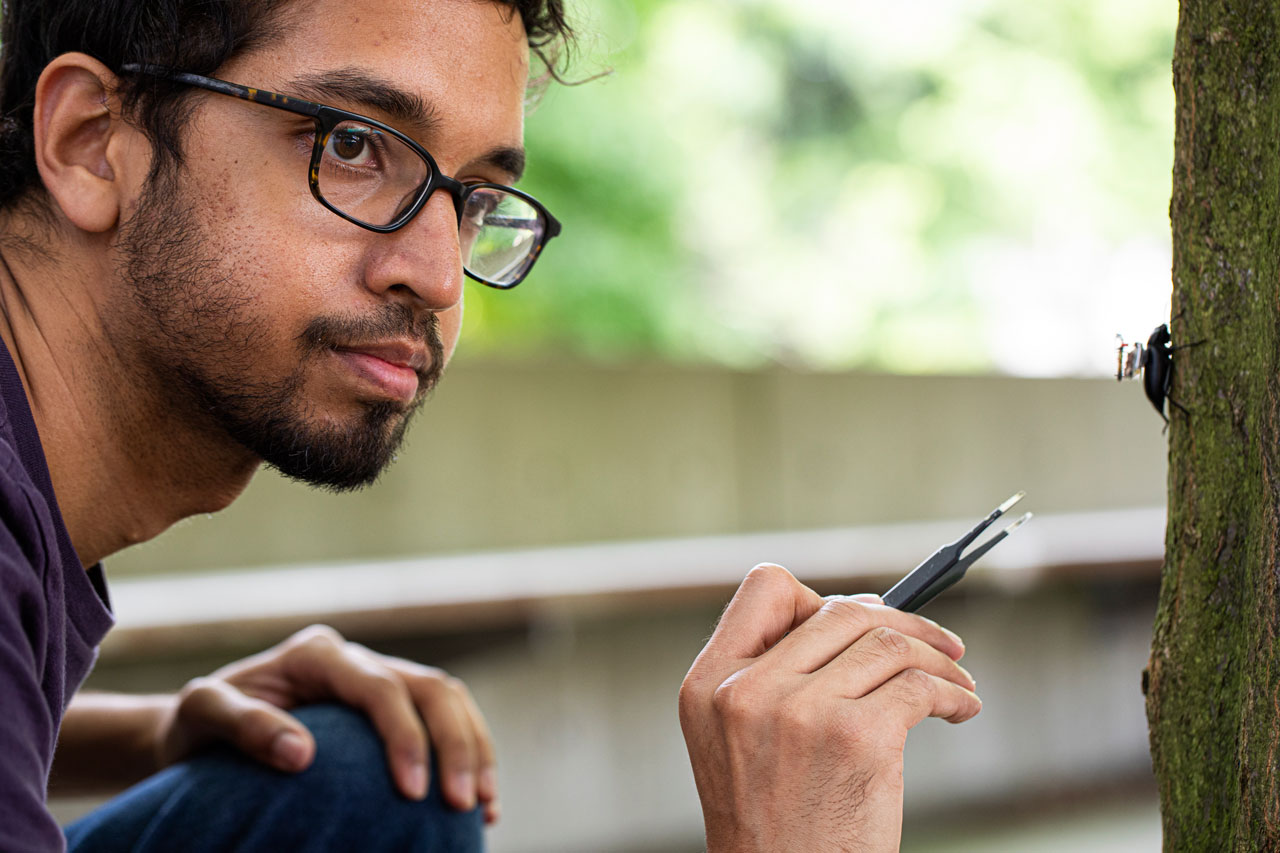 Vikram Iyer
Email: vsiyer@uw.edu
Office: Allen Center 648
Mailing Address: Paul G. Allen School of Computer Science and Engineering
185 Stevens Way, Campus Box 352350
Seattle, WA 98195-2350
Google Scholar
About Me
---
I am an assistant professor in the Paul G. Allen School of Computer Science and Engineering My work takes an interdisciplinary approach to connect ideas between different engineering domains and biology to build end-to-end wireless systems that push the boundaries of technology with particular focus on size, weight, and power. This includes technologies for ultra-low power communication using backscatter, insect-scale wireless robots, battery-free sensors, as well as cameras and sensors small enough to ride on the back of live insects like beetles and bumblebees. In 2020 I worked closely with the Washington Department of Agriculture to wirelessly track the invasive "murder" hornets, which resulted in the destruction of the first nest in the US (featured on Discovery). My work has been recognized by a Microsoft Research Fellowship, the Marconi Society Paul Baran Young Scholar award, a AAAS member spotlight, Geekwire's Innovation of the Year Award, and best paper awards.

My research interests are broad and am currently exploring technologies for use in wildlife tracking and conservation, microrobots, and medical devices. I'm also interested in developing novel bio-integrated sensors and building computing platforms with sustainable materials.

I'm looking for students, if you're interested please reach out!
Recent News
---
Publications
---
Students and Mentorship
---
PhD Students
Kyle Johnson
(NSF Fellowship, Google Scholarship, GEM Fellowship)
Vicente Arroyos
(GEM Fellowship)
Masters Students
Nishant Elkunchwar
Yash Talwekar
Suvesha Chandrasekaran
Undergraduates
Hans Gaensbauer (now at Gridware)
Alaa Sleek
Jose Jaime
(now at Sound Life Sciences)
Ian Culhane (now at MRV Systems)
Ryan Feng
(now at University of Michigan, Ph.D.)